Arkansas Small Works on Paper 2023
I am more than honored to have been chosen to be a part of this year's SWOP show.
Now in its 36th year, Small Works on Paper is a juried visual art exhibition that showcases 2-D artwork no larger than 18 x 24 inches by Arkansas artists. The Small Works on Paper exhibition travels to up to 10 venues throughout the state in a yearlong show, offering Arkansas artists an extraordinary opportunity to showcase their artwork to patrons all over the state. An out-of-state juror selects a maximum of 40 pieces of artwork to tour with the exhibition.
The 2023 juror is Margaret LeJeune, Associate Professor of Photography in the Department of Art and Design at Bradley University in Peoria, Illinois. LeJeune holds an MFA degree in Photography/Visual Studies from the Visual Studies Workshop, in Rochester, New York. Her work has been exhibited in both juried and invitational exhibitions. She is a frequent invited lecturer, artist-in-residence and arts conference panelist. LeJeune serves on the board of directors for the Society for Photographic Education and is a member of the Environmental Photographers Collective.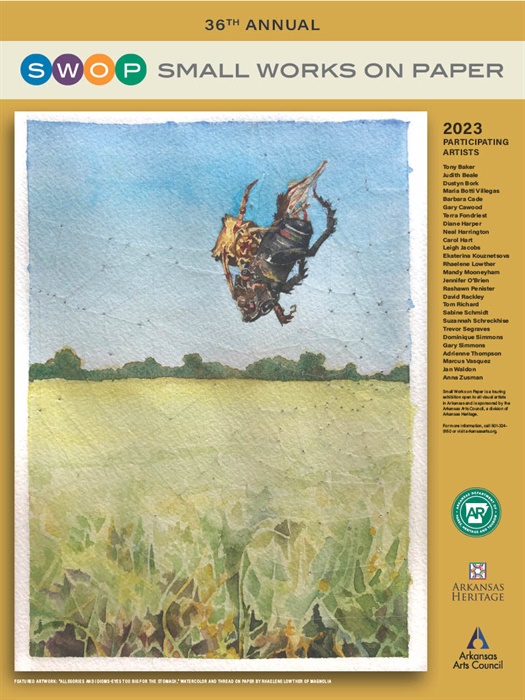 You can catch my piece and the rest of this incredible show at these locations throughout Arkansas during 2023.
Jan. 4-30
South Arkansas Arts Center
110 E. 5th Street
El Dorado, AR 71730
Opening Reception:
Saturday, Jan. 21, 5:30-7 p.m.
Feb. 6-20
Lyon College
Kresge Gallery
2300 Highland Street
Batesville, AR 72501
March 1 – 30
Community Creative Center
McCoy Gallery
505 West Spring Street
Fayetteville, AR 72701
Apr. 4 – 27
UA Rich Mountain
Ouachita Center
1100 College Drive
Mena, AR 71953